Healthy Thai Red Curry
Healthy Thai Red Curry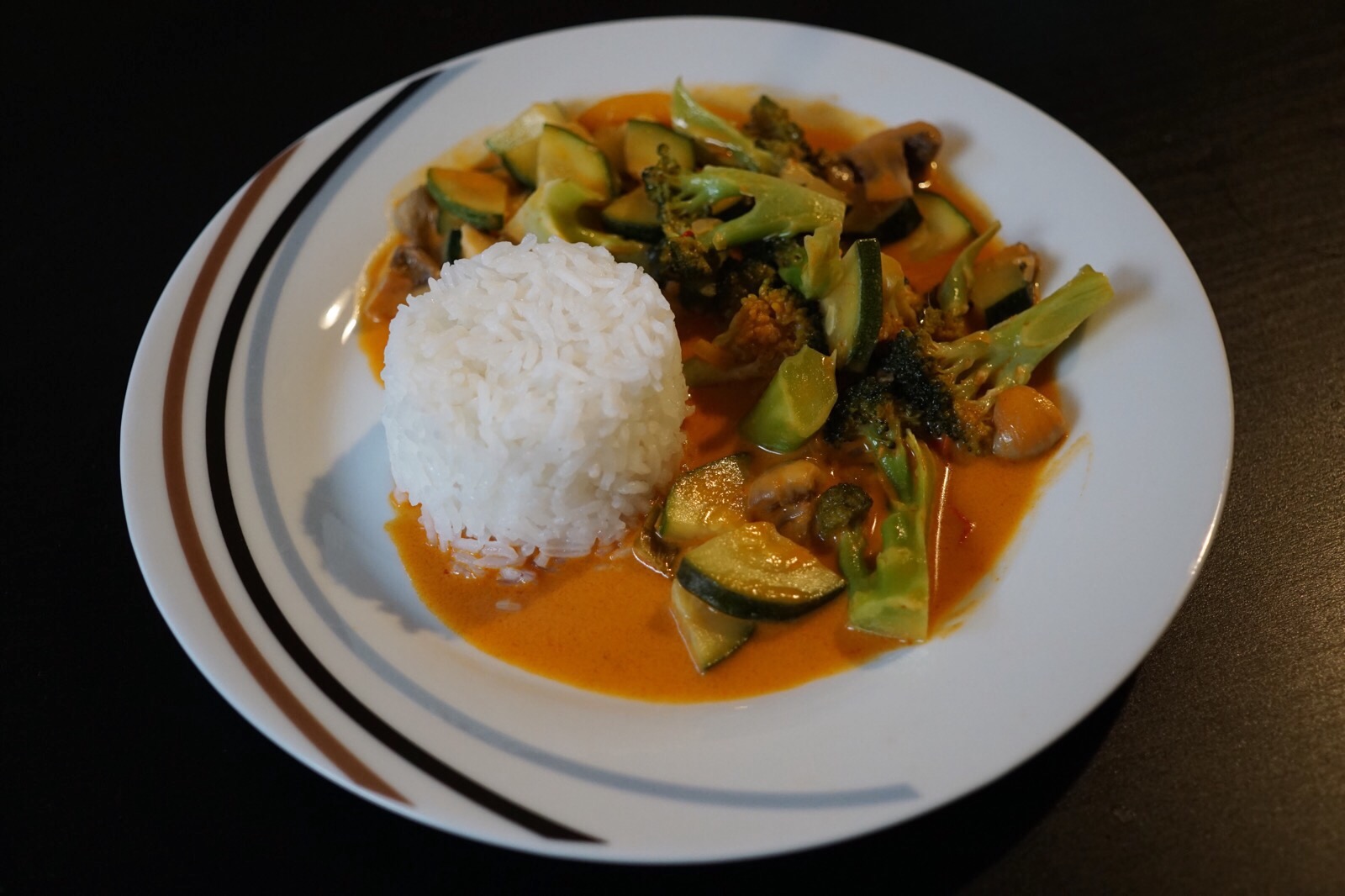 I'm someone who doesn't like spending much time in the kitchen. Especially when you come home from work! I guess that many of you think the same way as I do. Unless you guys cook professionally, love cooking or have a family to feed.
By the way, if you follow a healthy lifestyle like me. Then I'm probably sure that you have veggies in your fridge and a packet full of rice. Therefore, this Thai Red Curry with vegetables and rice will be the perfect dish for you. The only thing you will need is red curry paste and good old coconut milk.
The Thai red curry paste is the main ingredient and it is made out of dried chilis, lemon grass, garlic, galangal and much more. Remember, for this recipe you can always opt for different veggies.
For the Thai red curry recipe, you'll need
200 ml of coconut milk
50 ml of water
2-3 table spoon of Thai red curry – bought my own here
1x courgette
1x yellow bell pepper
5x mushrooms
1/2 broccoli head
2x Thai Chili
1x garlic
1x shallot
1 tsp of sesame oil
salt & pepper to taste
Instructions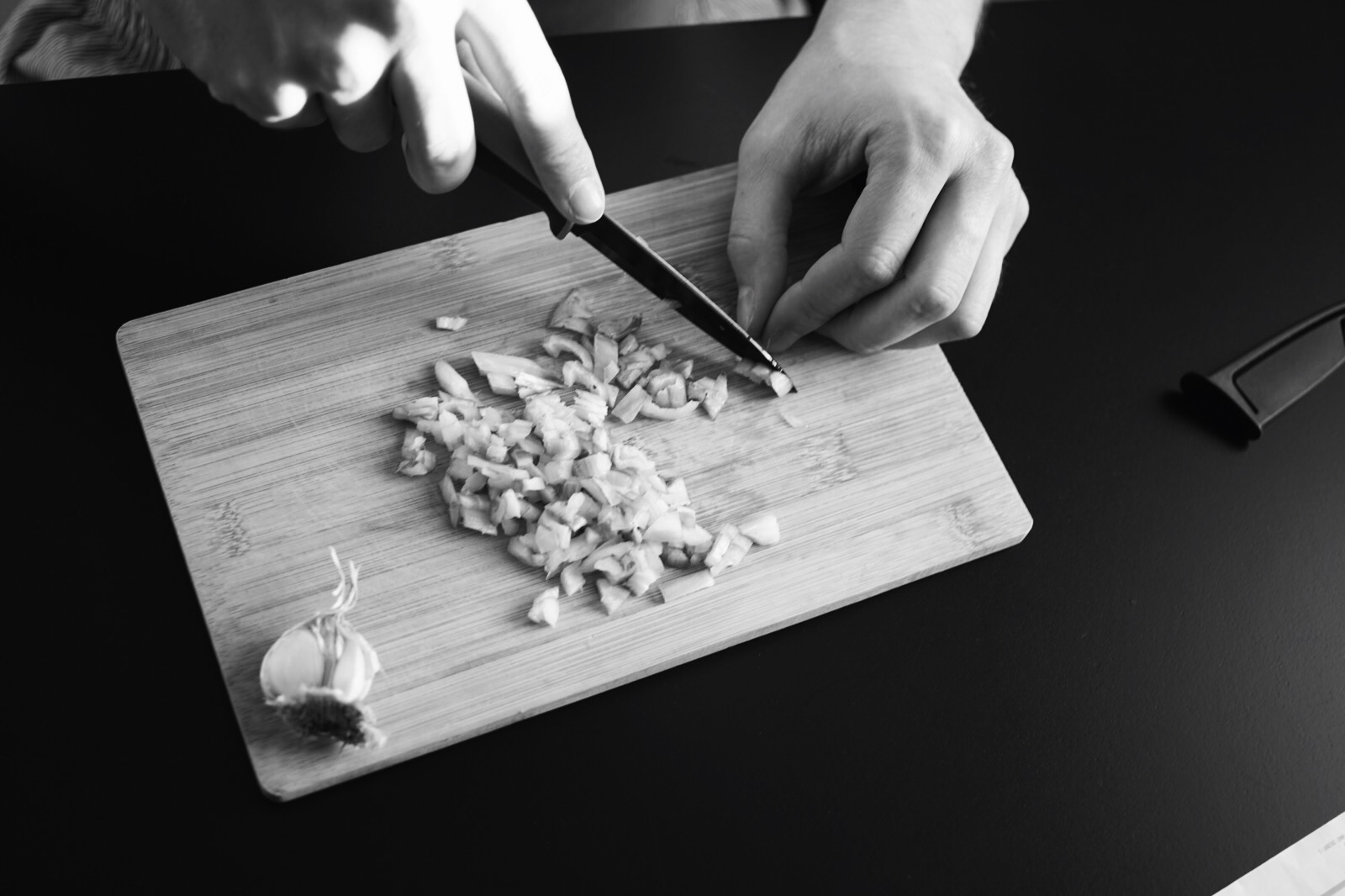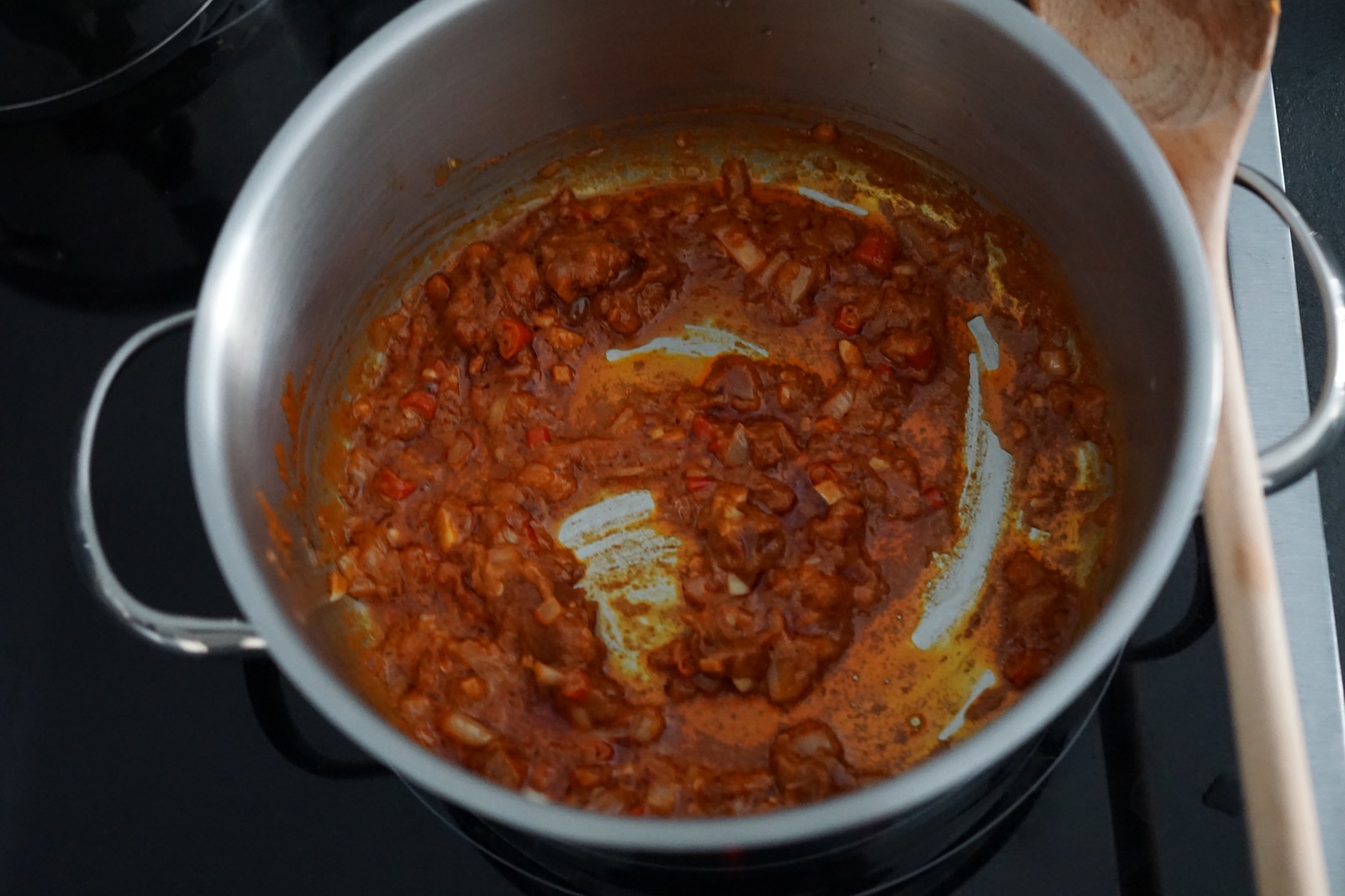 1. cook your rice according to the package direction, but don't forget to wash it prior cooking because it tastes so much better
2. fry the cut shallot, garlic and Thai chillis in sesame oil until they turned translucent
3. now add the red curry paste and a little bit of coconut milk, so that you'll have a creamy consistency.
4. mix everything together until you get a smooth liquid with no clumps.
5. pour in the remaining milk and the veggies that need longer time to cook like: broccoli and carrots.
6. throw in the remaining veggies that you have and season it with salt & pepper.
7. cook for 10 minutes on low medium heat and serve the rice on a plate with the sauce. Bonne Appetit!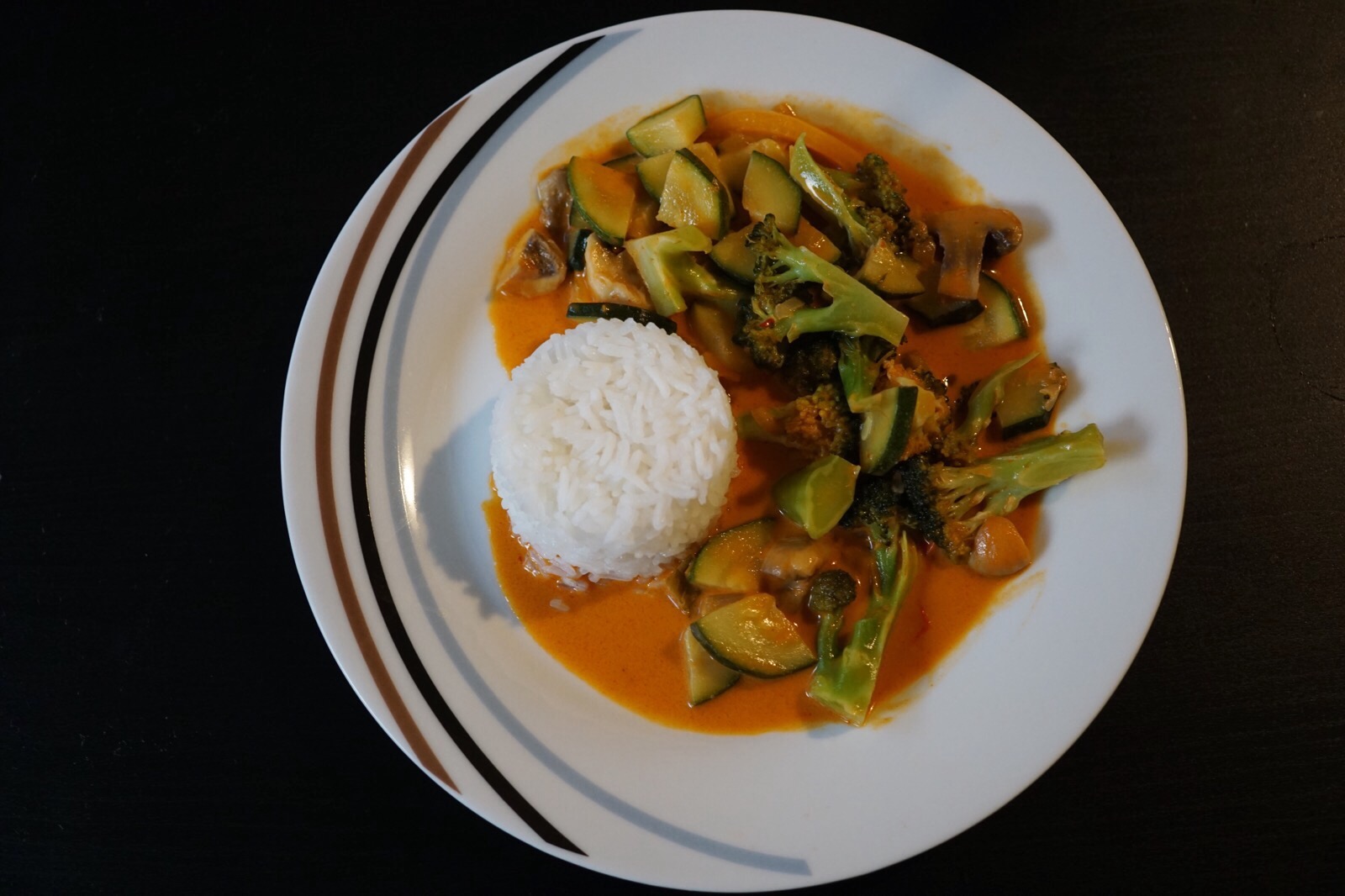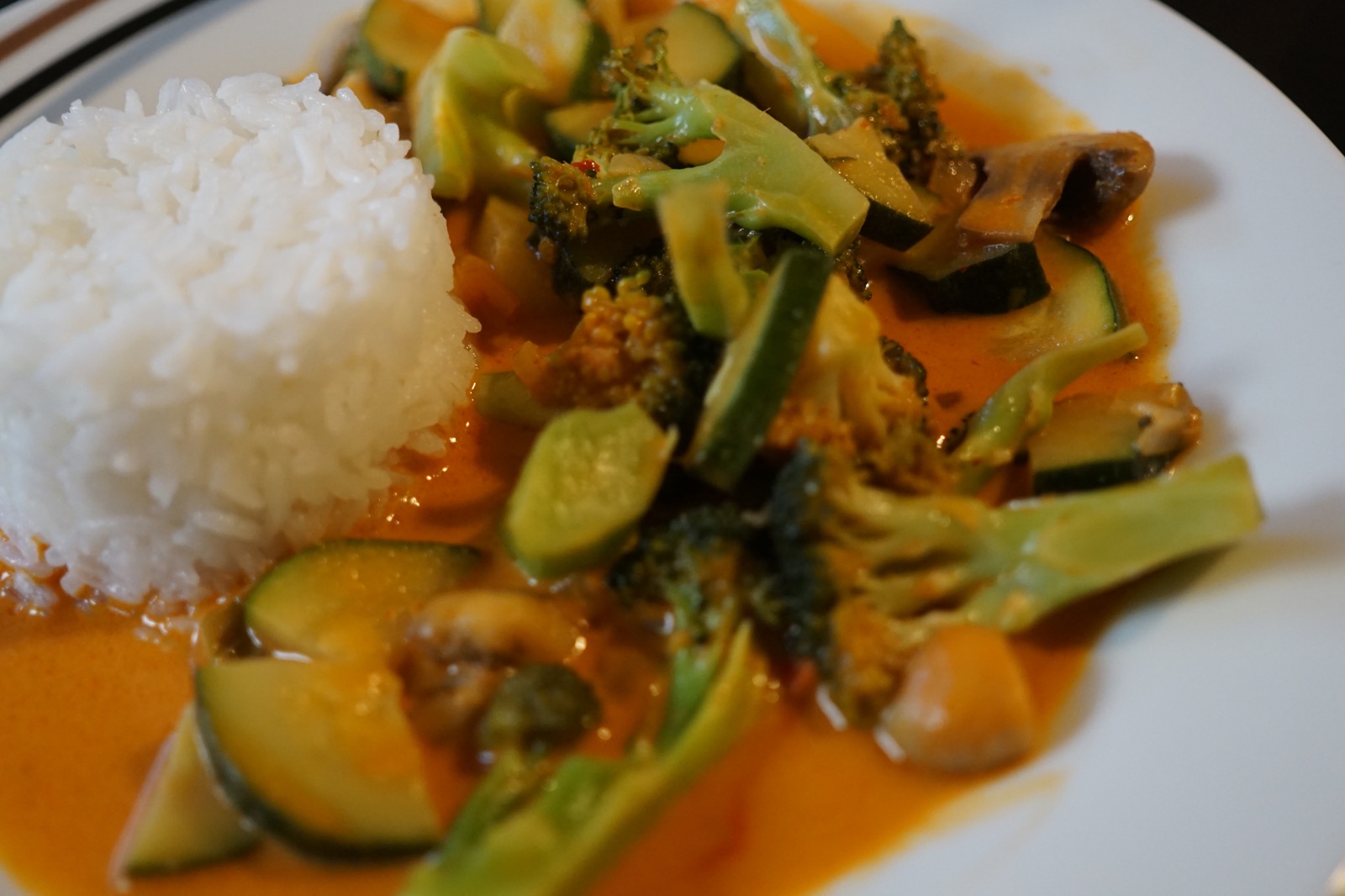 see you in my next post!
Jey <3