Summer trends 2019 – 9 fashion must-haves
Summer trends 2019 – 9 fashion must-haves
Hey peeps!
I just wanted to share with you my edit of the summer trends of 2019. The trend pieces were inspired by magazines, Pinterest, my wardrobe and Instagram.
By the way, I included a lot of links to similar pieces with low to high price tags. Also, some of the links are affiliate links where I earn a tiny commission.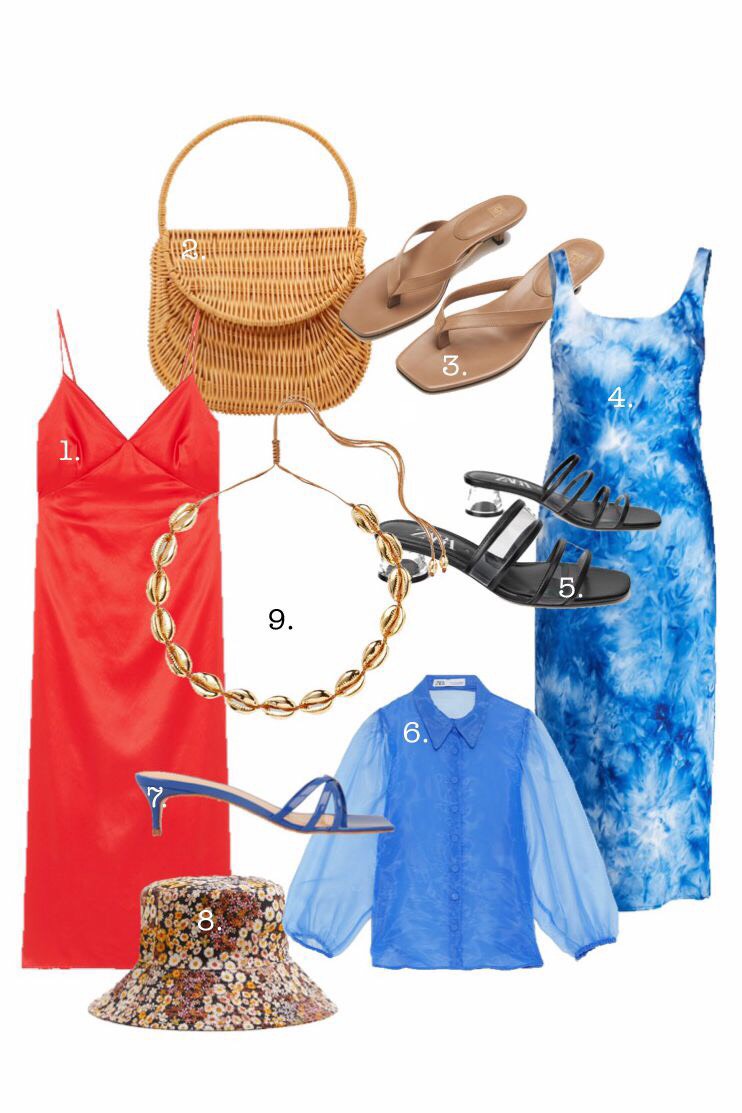 1. The silk/satin dress
I still remember when silk dresses were only associated with nightgowns but I am happy that you can wear it out now. Also, I love how it comes in different styles, so it doesn't look so much like a sleeping dress. I also prefer silk dresses with vintage silhouettes. Furthermore, I've been shopping much less and try to switch to silk instead of polyester. Because it is much better for the environment, lasts longer and it is much breathable for this hot weather.
A few links to satin dresses: HERE / HERE / HERE / HERE / HERE
2. The straw bag
Straw bags will always be there and I like how brands have been creating mini straw bags which make any outfit cute. I linked a few in different shapes and sizes. HERE / HERE / HERE / HERE
3. The Flip-Flop with heels trend
The first time I saw girls with flip flops with mid heels, I thought to myself, "who would wear this?" But ever since some brands like Toteme and Dear Frances brought out their own version of these kinds of sandals, I totally fell in love. And I could even see myself rocking these sandals. Lastly, it looks awesome with casual / laid-back clothes – trust me! ? . HERE / HERE / HERE
4. The Tie Dye Trend
A 2000 trend that makes a big appearance. I still remember when I was a kid, I thought wearing a tie-dye T-shirt with the matching skirt was stylish. I know… very awful  ?! Especially the harsh colors like green red and yellow were very favored.
Now, the trend is everywhere but this time I would pair it with a neutral clothing piece. Here are few pieces that I would even wear HERE / HERE / HERE
5. Vinyl sandals or 'barely there sandals'
Kim K has made the barely-there sandals very popular. But ever since Chanel came out with their Vinyl sandals every brand started introducing their own style to the masses. The funny thing about this is that those kinds of shoes were called 'stripper shoes' and I like them ??. HERE / HERE / HERE / HERE
6. Organza blouses
Organza blouses shout out high fashion and money. The transparent blouse  looks awesomely paired with elegant pants or a silk skirt. Lastly, you can wear it as a vest or even go braless if you are that brave! HERE / HERE / HERE
7. Low kitten heels
Low kitten heels have a comfortable heel height and make your feet look sexy. The brand By Far makes a lot of beautiful mules and strappy heels with a low heel. I bought a mule from them, and they're really cute. Here are some of their  shoes HERE / HERE / HERE
8. Colorful bucket hats 
Who said bucket hats are boring? Nowadays, they come in interesting prints or colors. And they are a cute accessory for the beach. Furthermore, you are protecting your hair from the sun and avoiding a headache. HERE / HERE / HERE / HERE
9. Shell jewelry 
Shell jewelry are so trendy right now!! I see girls rocking beautiful necklaces and earrings. And, I love me some white shell anklets ?!! The shells come in different shapes & colors. I think,  you'll  find something that you like! 🙂 HERE / HERE / HERE / HERE
See you in the next post!